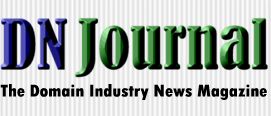 Cover Story
April 2008

The Domain Giant You Didn't Know: Rob Grant's Roundabout Route to Real Estate Riches (Online and Off!)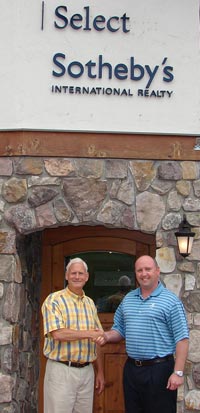 Rob Grant (left) and John Burke in front of the Select Sotheby's International Realty office in Saratoga Springs, New York.
"We are very excited to partner with Select Sotheby's International Realty on this unique project and to be working with John Burke," Grant (who is based in Lake Placid, New York) told us. "If this first site performs the way we think it will, it may represent the future template for a major build out of our powerful New York real estate network in select markets."
The RealEstateDirectory.com was founded in 1996 by Grant who owns the largest network of geo-targeted real estate domains in the world, including LondonRealEstate.com, JapanRealEstate.com, TokyoRealEstate.com, AustraliaRealEstate.com and GermanyRealEstate.com, as well as hundreds of other countries and cities around the globe.
"Our current strategy is to partner with companies like Sothebys here in Upstate New York which offer excellent inventory and a large network of experienced agents," Grant said. "It's critical that we have internet savvy agents who can handle these real estate leads and convert them to actual sales."
Throughout New York State, RealEstateDirectory.com owns domains representing the most important markets throughout New York State, including

NewYorkRealEstate.com, BuffaloRealEstate.com, AlbanyRealEstate.com and SyracuseRealEstate.com to name just a few. The majority of these domains are still utilizing a traditional parking based platform generating PPC revenue, but Grant has his sites set on forming more development deals like the arrangement with Sotheby's to unlock the full potential of these domains.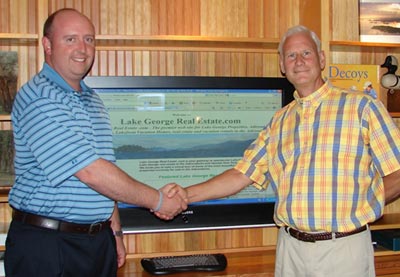 "As the traditional PPC revenue model slowly dies, large domain portfolio owners are now finally moving into the next development phase," Grant noted. "For real estate domains, the highest and best use has clearly always been as fully developed real estate portals. The commissions which can be generated from the sale of physical real estate dwarf any other revenue model we know of."
"The way we've structured the LakeGeorgeRealEstate.com deal with Sotheby's is that RealEstateDirectory.com owns the actual web site and Select Sotheby's International Realty provides all the unique inventory and listings. Its a very simple and straight forward arrangement. If we can generate the leads, Select Sotheby's International Realty agents can convert these leads into sales," Grant said.


October 2009
Advice From the Most Successful Domain Owners of All Time –
This is part five of a series of five with one piece of advice from some of the most successful domain investors, domain developers, domain monetizers, and others involved in the domain industry. I asked them for one piece of advice they would give to a part-time domain investor looking to build his business. I believe there are quite a few people who are part time domain investors, and I also believe just about anyone involved in the industry can apply some of this advice to their own business models.
I really appreciate all of the contributions from the industry leaders who contributed, and I hope the advice contained within is helpful to you now – or will be helpful to the growth of your business in the future.
Rob Grant, Winter Sports Network.com & RealEstateDirectory.com:
All it takes is one good domain.
The rest will follow.
Today, our domain space has become increasingly cluttered with domain litter…useless extensions and obscure country codes that blow around in the wind like trash in a vacant lot… followed by domain investors running wildly around chasing all this garbage.
click here for Elliots Blog with Rob Grant Interview
click here for Elliots Blog




Madison Avenue and Domain Legend Rob Grant Live 2/18/09
Join us for a Webinar on February 18, 2009 featuring Rob Grant .
About Rob Grant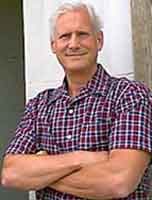 Rob Grant walked away from a dream job on Madison Avenue so he could move to New York's Adirondack Mountains, even though there was no job waiting for him there. "We happened to get lucky because we hit that market just as the Adirondacks were starting to be rediscovered," Grant said. "People were starting to come up from New York, New Jersey and Boston and I found I was able to sell the residential properties for two and three times what I paid for them." That kind of ushered in my real estate era. As the economy started growing again, Grant's business boomed. At this same time, in 1995-96, Grant became aware of the Internet and domains. "That was a remarkable awakening for me because I had the Madison Avenue marketing background and I had the real estate background and suddenly these two powerful thing merged. I looked at a domain and thought My God, not only is this a brand as the Internet develops, but it also has all of the properties of real estate," Grant said.
Title: Gratitude Presents Domain and Advertising Icon Rob Grant
Date: Wednesday, February 18, 2009
Time: 8:00 PM - 9:00 PM EST


January 2007

Get a Great Domain Name. Looking for a memorable Web site address?
Don't think for a moment that all the good ones are gone.
BY MICHAEL RUSSER
Lease it.
You don't have to buy a domain name to benefit from its use. Domain leasing is based on the principle that many people simply type in the domain name for the type of product or service they're interested in. Then, they're redirected to your site, giving you extra traffic.

For example, if you specialize in Hollywood real estate, you may find that hollywoodrealestate.com is available for lease (which it actually was until someone leased it). If you leased it, whenever prospects type in www.hollywoodrealestate.com, they would be sent to your site.
You typically pay a fixed monthly fee based on the anticipated traffic. Think of this as a sophisticated form of pay-per-click, except that you pay a flat fee rather than a per-click cost. One domain leasing site that specializes in real estate domains, LeaseThis.com, also offers to wrap an appropriately designed branded version of the leased domain name location around your site. To see an example, go to www.hollywoodrealestate.com at the top you'll see the branded domain name being leased, underneath is the site of the company that leased it.

Leasing is smart for several reasons. Since you don't own the name, this approach creates a clear separation between your brand and that of the domain name. So when you're ready to terminate your lease, it doesn't affect the branding of your own site. (Tip: Never brand your site using a leased domain name, but always with one you own.) Also, you can use it as a listing tool; Imagine going on a listing appointment for a property in Hollywood and having the prospective seller type in "www.hollywoodrealestate.com" and see your site come up this way. Their perception is likely that you "own" that space.

click here for article with Rob Grant

click here for link to article at Realtor Magazine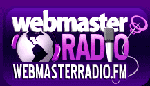 Monte talks to Rob Grant and Rob Barbour 12/21/2005 -
Monte Cahn Monte talks to Rob Grant and Rob Barbour. Rob Grant spent many years on Madison Ave. with Grey Advertising working on major accounts like Proctor and Gamble, Northwest Airlines, Playtex, etc. He moved to Lake Placid in the early 80s and started a number of businesses including a real estate brokerage firm and rustic furniture company! He created www.RealEstateDirectory.com which controls one of the largest online real-estate networks in the world. Rob Barbour, 39, is President and CEO of Digit Software, Inc, which provides software development services worldwide, cell phone services in Africa, and maintains a domain portfolio of 4000 names. Digit Software is also the parent company of Pokerliving.net, which teaches people how to make a living playing poker
click here to listen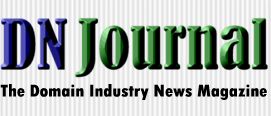 January 2008
Rob Grant, the President of RealEstateDirectory.com, a company that owns a massive portfolio of highly targeted real estate domains - "I wanted to help create a new revenue channel," Grant said. "I did not want to remain dependent on Google and Yahoo (the main providers of PPC revenue) and this looked like a very smart alternative. For a vertical portfolio like mine is is especially good because it is possible to forge a direct advertiser relationship for thousands of domains at once."
click here for entire story






October 19, 2006 09:00 AM Eastern Time
LeaseThis.com Ushers in a New Era of Internet Advertising
New Platform Brings the World's Premier Internet Real Estate to the Masses
LOS ANGELES--(BUSINESS WIRE)--LeaseThis, LLC announced today the introduction of LeaseThis.com, a radically-new, cutting-edge Internet advertising platform that seeks to revolutionize the business of online advertising. Research has shown that while the number of global Internet users is growing exponentially, the availability of premium, targeted domain names is rapidly decreasing. The result is an increasingly difficult task for businesses to establish an online presence, or even reach out and attract new customers, through a meaningful domain name.
LeaseThis.com's proprietary, patent-pending technology is designed to address this issue by better aligning the interests of online advertisers with those that control the Internet's premium real estate. "We are the first company to offer domain leasing on a scalable, global platform, thereby releasing the incredible value of premium domain names to businesses and individuals around the world," said Jonathan Boswell, CEO and Co-Founder of LeaseThis.com.
The value of a premium domain name is easily illustrated in the "real" (as opposed to "virtual") world of real estate. According to the 2005 NATIONAL ASSOCIATION OF REALTORS® Profile of Home Buyers and Sellers, 82 percent of first-time homebuyers and 78 percent of repeat homebuyers used the Internet to search for homes, and 24 percent of buyers actually first found their home on the Internet. For many Internet users, that search starts with real estate domains. For example, a prospective buyer looking for a home in Atlanta often types "AtlantaRealEstate.com" (www.AtlantaRealEstate.com) or "AtlantaHomes.com" (www.AtlantaHomes.com) into their web browser. With a median home price in Atlanta of $265,000, it is easy to see the intrinsic value of this type of highly-targeted traffic.
Furthermore, a recent study conducted by WebSideStory, Inc. (www.WebSideStory.com) shows that this type of "direct navigation" has a conversion rate more than 80% higher than that of traditional PPC (Pay-Per-Click) advertising on Yahoo! and Google.
Ammar Kubba, COO and Co-Founder of LeaseThis.com, acknowledges that the early response has been tremendous. "Businesses desperately want access to this premium traffic, yet the current PPC model often fails to capitalize on the true power and value of premium domain names, to the detriment of both advertisers and domain owners alike. With LeaseThis.com, we now have the ability to deliver this highest-quality traffic directly to the businesses that need it most, in the most efficient and compelling manner possible. We see it as the next logical step in the evolution of search marketing."
To develop its comprehensive and unrivaled inventory of premium domains, LeaseThis.com has been working closely with prominent domain owners such as Rob Grant, CEO of the RealEstateDirectory.com, which controls one of the world's largest and most sought-after portfolios of Real Estate domain names. According to Grant, the advantages to controlling a valuable domain on an exclusive lease basis are significant. "By leasing a strategic industry domain, companies can now effectively leap frog over their competition. Instead of merely being listed with dozens of other advertisers on a traditional PPC template, one company alone will have the exclusive use of these extremely valuable domain properties."
The initial release of the LeaseThis.com platform is currently available exclusively to select beta partners, in preparation for a full-scale global launch in early 2007 .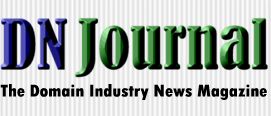 Cover Story
January 2009
The State of the Industry January 2009: 15 Leading Experts ... Predict What Will Happen in 2009
To make sense of what happened in 2008 and where we are headed in 2009 we called on 15 of the most successful people in the domain industry for our 5th annual State of the Industry report. Our panel of experts includes key company founders, CEOs, developers, investors and attorneys. The all-star roster includes (alphabetically by last name): Monte Cahn, the Castello Brothers (Michael and David), Phil Corwin, Michael Gilmour, Ari Goldberger, Rob Grant, Dr. Kevin Ham, Dr. Chris Hartnett, Michael Mann, Andrew Miller, Howard Neu, Rick Schwartz, Tim Schumacher and Divyank Turakhia. With so many top minds gathered in one place this is a report you can't afford to miss!

click here for Full Story

click here for Rob Grant Interview

Home | Brands | Real Estate Verticals | Press Room | About Us | Industry Info

Contact Us

copyright © 2010 WinterSportsNetwork.com, All rights reserved.